THE BEAUTY.
A one hectare homestead designed according to your own personal vision lays a solid foundation of beauty, freedom & abundance for generations to come. Co-created to enhance your inspiration & quality of life. Amongst a community of like minded, sovereign people sharing values, skills, tools and knowledge.
What creates a sense of connection? What brings you deep joy?
How would you like to feel as you rise to meet each new day?
What is your purpose? What do you value most in life?
How do you spend your precious time on Earth?
And what will you offer while you're here?
We begin the process of designing your
new home by finding out what your
interests, work & rituals look like,
to create the optimal space
to care for your needs.
At HAVEN, each family stewards one hectare of fertile forest with a living fence of bamboo around the perimeter and raw jungle circling the developed areas. A minimum of 75% of each hectare remains forested while we weave fruit trees, shrubs, vines & tubers into the existing landscape to create an abundant perennial food forest. The interior circle is designed according to your wishes and desires to make your daily life an easeful dream. For the most self sufficient nourishing lifestyle, your design should include a vegetable garden close to your kitchen, a pond, beehives & a place to grow some grain. If everyone lived in this way, the Earth would be transformed into a harmonious paradise that provokes the highest quality of life, inspires thoughtful creative expression & reaches for the human potential.
HAVEN consists of 42 homesteads along with an array of lifestyle enhancing amenities, sitting inside a 138 hectare community of conservationists known as NICHTE HA II. Together, we steward this magnificent Maya jungle and receive the benefits of living in harmony with nature.
The first residential phase of the development is made up of 9 homesteads branching off of a quiet private access road. Choice of plot is claimed on a first come, first served basis.
As you arrive in the community, you will be greeted by our centrally located market and gardens. Luxurious amenities meet all your lifestyle needs with access to a yoga shala, meditation labyrinth, temazcal & sports park. We've included all the necessities of daily life with a school, amphitheatre for gatherings and recycling center for glass & metal. Residents will also enjoy awe inspiring natural wonders including cenotes & a cave.
Nearby, the AMARA Residence is a platform for artistic collaboration and includes a boutique, wellness spa, signature garden to table restaurant, teaching kitchen, clay, glass & handcraft workshops, reading & writing pods, a recording studio and villa for creators. A place to slow down, immerse in natural rhythms and connect with your inner world to access states of creative flow. Following seasonal alignments, special events will be hosted including seminars, showcases and meditation retreats. HAVEN members will receive lifetime access to all facilities, events and regenerative programs.
Nature bonding.
In the development of our homesteads, we use nature bonding principles
to guide an experiential balance that provokes thoughtful interaction with our surroundings.
1. Organic Shape
We favor forms found in nature
including spirals, branches, layers, bubbles,
spheres, waves, scales, starbursts & honeycombs.
2. Local Materials
We build with materials found in the
immediate environment, especially
for exterior finishes and facades
so our dwellings fade
into the forest.
4. Natural Light
We invite sunlight into our living spaces
through skylights and wide openings,
while at night, introducing soft,
warm light, that mimics fire.
5. Blurred Lines of Separation
Refined integration of indoor & outdoor spaces,
carrying fresh air, plant life and flowing water
through the home to seamlessly
blend structure with nature.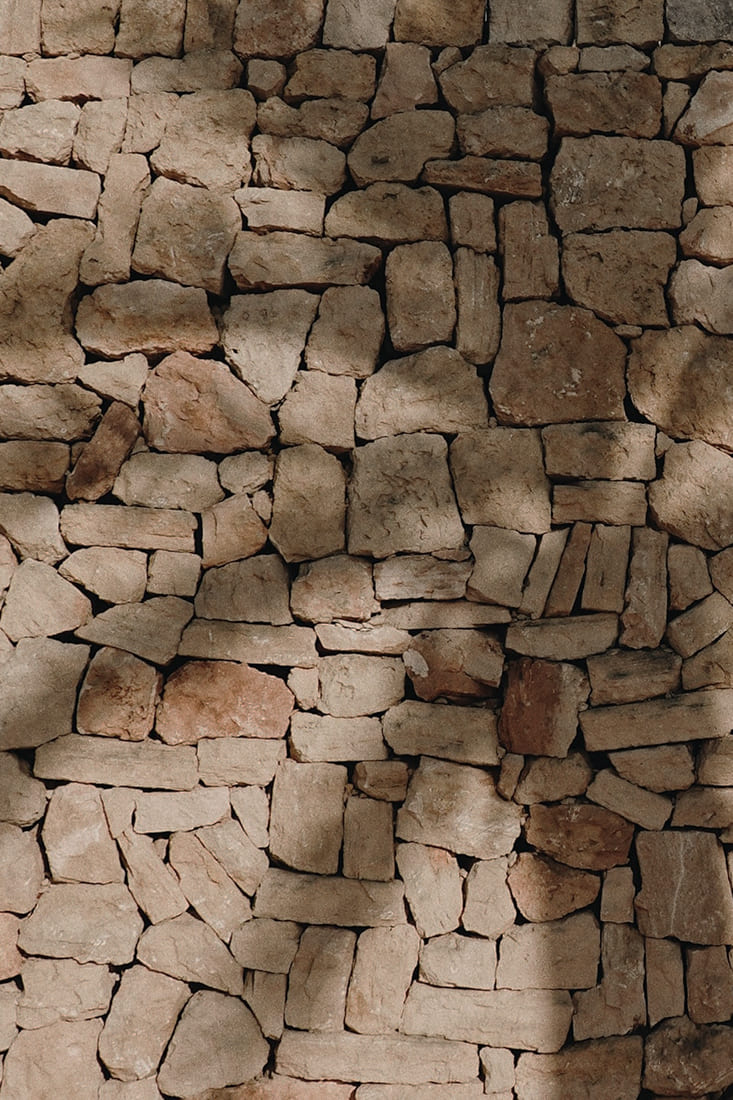 Limestone
Used as the building blocks of the great Maya temples, the entire Yucatan Peninsula sits on a shelf of limestone that emerged from the ocean as water levels began to recede around 33 million years ago. Following the footsteps of this ancient indigenous culture, we use limestone as the foundation of all our structures and as a decorative element throughout, drawing on the talents of skilled artisans from the region.
Sascab
A decomposed limestone gravel, sascab is abundant to the region and has been used for ages by the Maya people as a paving and building material. We are experimenting with the use of sascab in earthen floors and superadobe structures.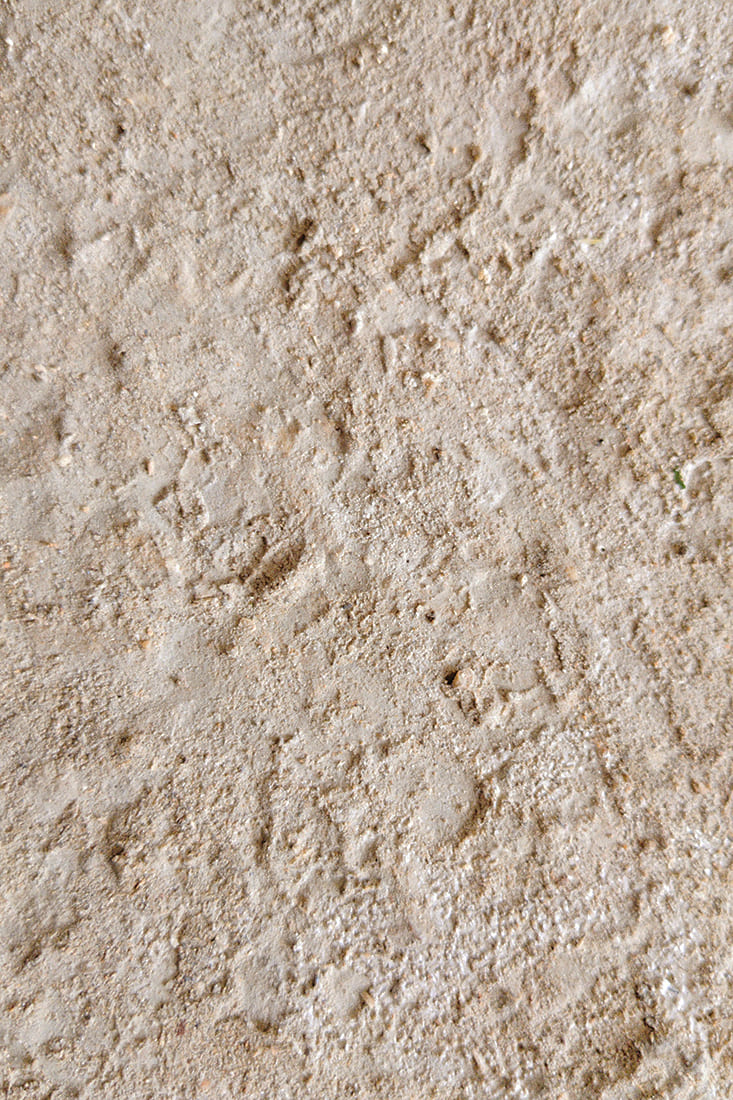 Lime plaster
A miracle material used for thousands of years, lime plaster is extremely durable, becoming stronger over time as it hardens into it's original stone form. Lime is capable of absorbing carbon & improving air quality, while also water repellant yet breathable, preventing mold. A perfect wall render for the tropics.
Earth & clay
Earth has been used since the beginning of time to create shelter, for obvious reason. Inherently beautiful and abundantly available, building with earth carries many benefits aside from the aesthetic warmth and strong character. The material is fire proof, absorbs sound, protects from electromagnetic frequencies and is recyclable & repairable. In addition to structural elements, we will use earth and clay in wall renders, floors, tiles, tableware & decor.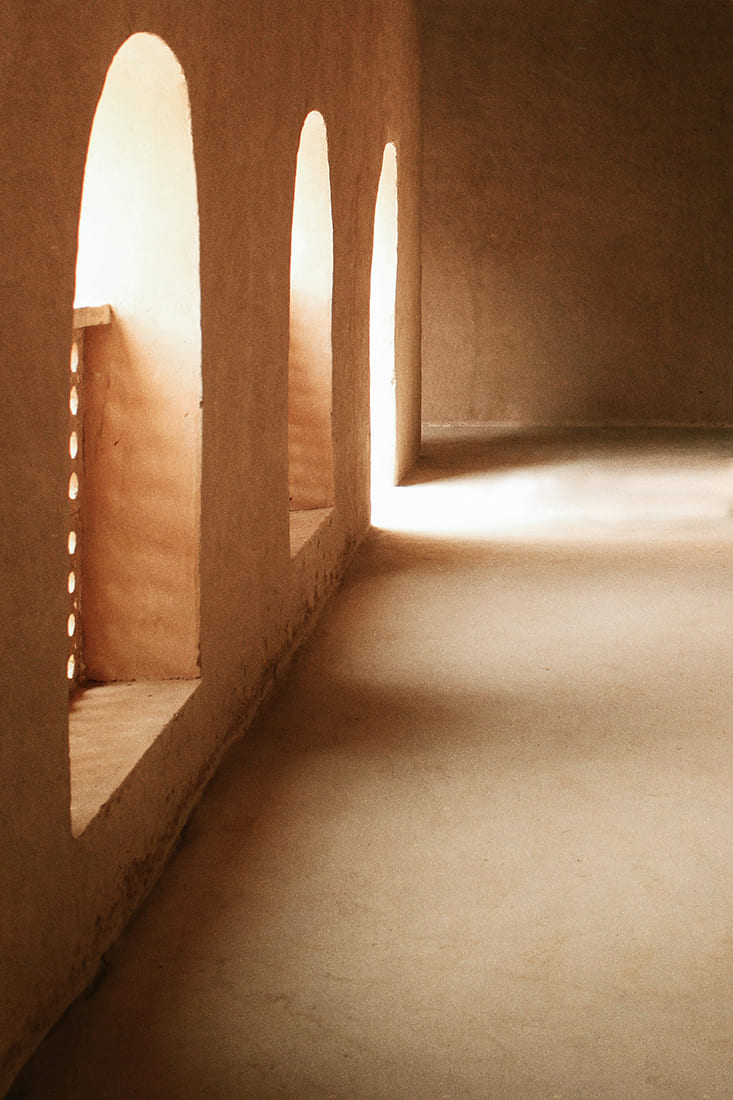 An unsuspected teacher
Bamboo carries with it much wisdom. Firstly, a lesson in patience. When the bamboo seed is planted, it must be diligently cared for, receiving plentiful water and nutrients. On the surface it appears as if nothing has happened for a long while. Not even after one whole year do we see any results from the effort. During this time, the bamboo is generating a perfect root system that will allow it to grow up to 1 meter per day when it finally breaks the surface. Once established, this grass grows easily and can be harvested up to 3 times per year. Plant bamboo once and it will bear fruits for a lifetime, or two. The creation of this community is much like the farmer who waits patiently without weakening his effort. Because we are aware that the seeds that have been planted with love, cultivated with hard work & perseverance, will bear fruit at first very slowly. But with a strong foundation laid, will provide a lifestyle of abundance, resilience and ease. In maturity, bamboo teaches reciprocity. Absorbing a huge amount of carbon dioxide & toxins and releasing plentiful oxygen, it will also hold up to 5000L of water per plant, which acts as fire protection and a watering system for surrounding plants during dry season. Bamboo loves to show us how the use of minimal resources can achieve maximum results.
BAMBOO
Strong, flexible, lightweight and versatile, bamboo has a tensile strength greater than steel. Following a few guidelines, a home built with properly treated poles and protection will last generations. In fact, many bamboo homes can be found in South America & Asia that have been standing for over 200 years. Here we will cultivate 27 species of bamboo to sustainably harvest for construction, create fire barriers and produce mulch & biochar. Growing bamboo is our solution to witnessing families in the region clear cutting forest for agriculture & hardwood. With our aim to protect the trees living here, we're grateful to welcome bamboo as a wise and generous member of our community and we are committed to sharing her wisdom and abundance with all who wish to receive it.
Bejuco
A vine that traverses the Maya jungle, bejuco is used much like rattan, intertwined to take shape as furniture, decor and fine finishes. We are weaving bejuco through ceilings, floors and railings to draw the eye through organic line and form.
Cement
While cement is energy & carbon intensive, it is also extremely durable and long lasting. Used intentionally, these costs can be offset through the lifespan of the building. Initially forming our structures with cement block allows us to build upwards, which minimizes our physical footprint and need for tree removal. We have a block manufacturer located just 11 KM from the land, allowing us to utilize local skills and invest directly into our community. As our bamboo grows and we develop new skills within the region, we will phase out the use of this material.
Hardwood
Where we selectively remove trees to introduce living space and sunlight, we will utilize the wood to create functional art, preserving and prominently displaying the natural beauty of the material.
01. Turnkey regenerative living by AMARA Concepts.
We will work with you to create a custom design to suit your family, passions & work and complete the build for you while you prepare to make the leap into your brand new self sufficient life.
02. Create a nature bonding home with your own hands.
Go as slowly as you need. Take advantage of our classes on bio construction, communal tools and workshop spaces as well as bamboo & limestone harvested from your land.
There are many incredible firms developing bio construction techniques across mexico.
Feel free to choose the builder that aligns with your vision of your families forever home.